Caravan Parking PANORAMA ČEJKOVICE
Have you fallen in love with travelling by caravan or motorhome?
Our new stellplatz should definitely not be missing from your travel plan!

On the newly revitalized area you will find everything you need for overnight stays and for basic maintenance of your car. The Stellplatz is located directly on the premises of the Templar Cellars Čejkovice winery in the immediate vicinity of the vineyards, whose history dates back to the 13th century. When you add to this the view of the beautiful landscape of Slovácko, which stretches directly below you, you can be sure that this place is definitely worth it.
Thanks to the very good connection of Čejkovice to Moravské vinařské stezky (Moravian Wine Trails) or to the cycling routes within the national certification system Cyklisté vítáni (Cyclists Welcome), you can ride a bike through the whole area and get to know its uniqueness up close.
The Panorama Čejkovice stellplatz can be reached comfortably on an asphalt road. The grassy area is spacious enough for 15 caravans or motorhomes.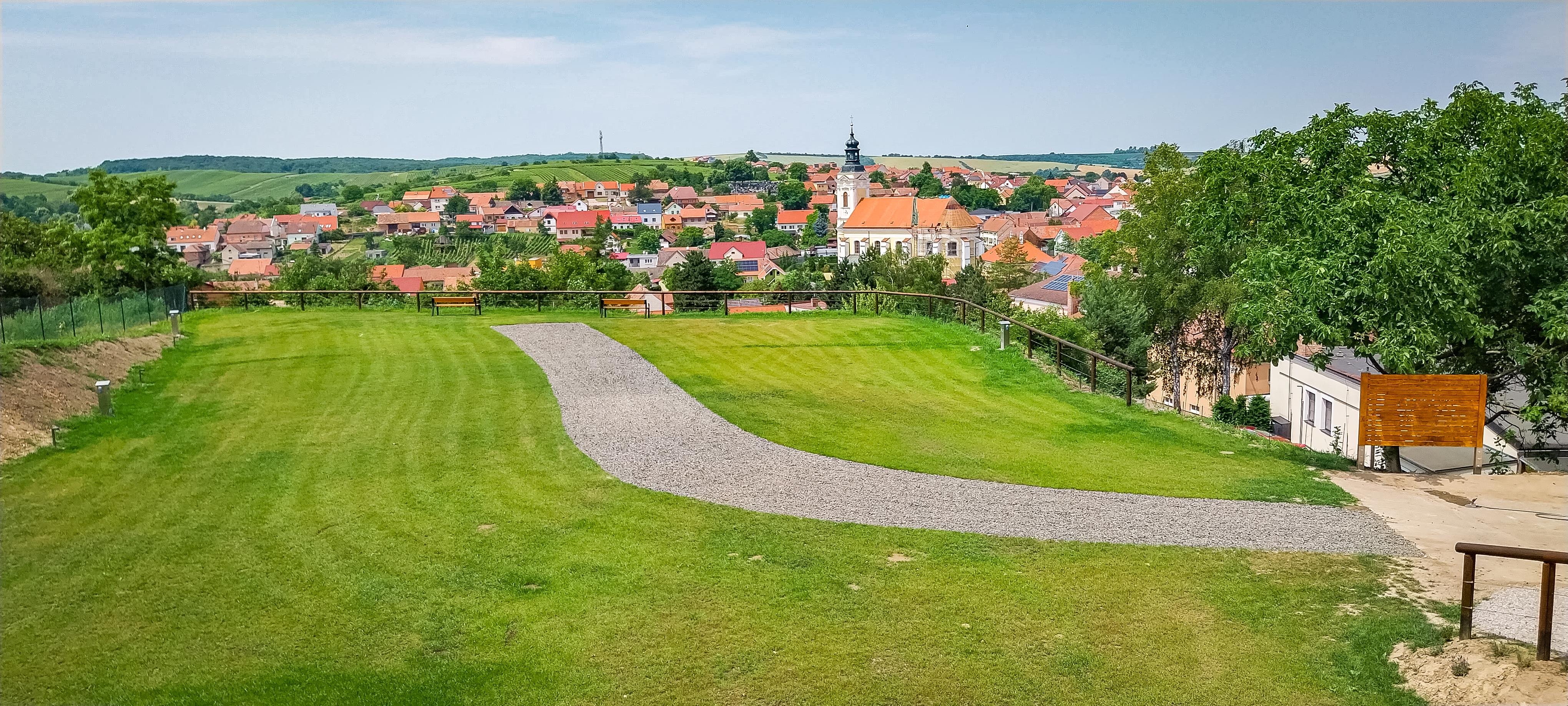 Facilities and service
The price of 450 CZK / 24 hours stay includes the following items:
- Caravan / motorhome parking
- Standardised electrical connections for caravans / motorhomes
- Drinking water
- Chemical toilet and grey water sink
- Containers for sorted waste
- Ample seating with a view, part suitable for dining
- Fireplace with grill including equipment
- The whole area is fenced and camping is prohibited
- Access to the area is possible 24 hours a day
- No vehicles other than caravans and motorhomes are allowed in the parking area
- No pets (dog, cat) without a leash. Owners are responsible for walking their dogs outside the premises.
- There is a night-time silence in the premises from 22:00 to 7:00.
- Persons who do not have a caravan or motorhome parked on the premises are not allowed to enter the premises.
Contact, booking, payment
Payment can be made in cash or by card at our company shop Na Bařině during the opening hours: Monday–Thursday 9:00–17:00, Friday–Saturday 9:00–19:00, Sunday 9:00–16:00. If you arrive later, please visit the shop the following day.

As a gift and a thank you for your stay, a bottle of wine or two free coffees will be prepared for you in the shop after payment.
Visitors to Stellplatz have an automatic 10% discount on purchases and consumption in both our shops - Na Bařině and the Mlaty shop next to Sonnentor.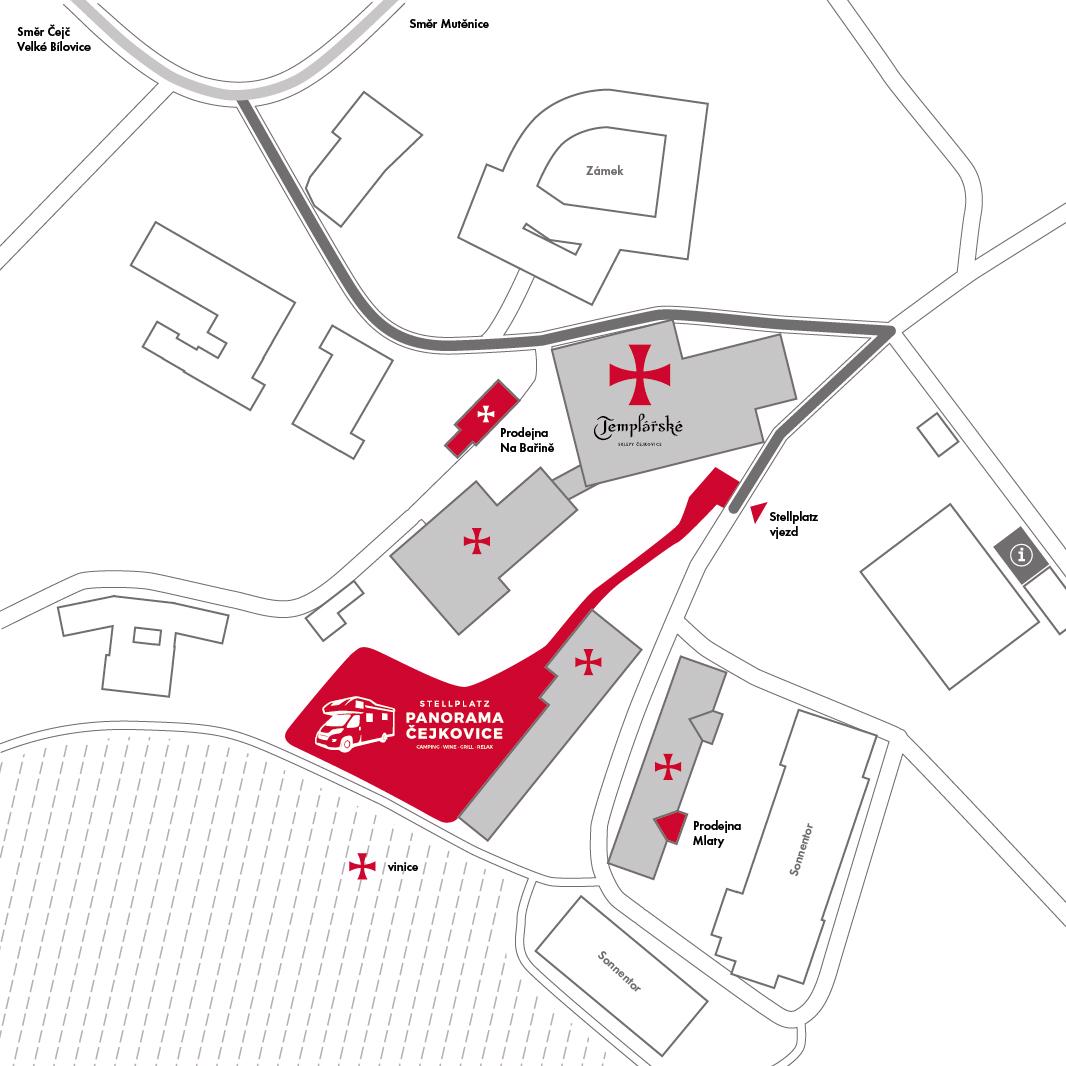 Shop Na Bařině, Čejkovice 945, 696 15
Tel.: +420 734 285 163
E-mail: prodejna@templarske-sklepy.cz
Stellplatz Panorama Čejkovice
GPS: 48.903576, 16.946867
Tips for trips
Čejkovice is a part of Slovácko, a region in southeast Moravia with a strong folklore tradition and rich history. It offers beautiful nature, a network of cycling and hiking trails and cultural monuments. Above all, however, it is delicious wine, vineyards, wine cellars and wineries. That is why Slovácko is a frequent destination for wine tourism.
You can taste local wines directly in Čejkovice, but also in the surrounding villages of Starý Poddvorov, Nový Poddvorov, Kobylí, Hrušky, Čejč, Josefov, Prušánky or Mutěnice. You can find a good hundred smaller and larger wineries here. You can start just a few steps from the parking lot. Below you will find some tips for a trip not only for wine.
Templářské sklepy Čejkovice
In the legendary historical cellars, you will feel the mysterious atmosphere of the Middle Ages. Guided tours, wine tasting or stocking up on wine for your next trip are included.
TGM house
This country house is the last surviving building where Masaryk lived during his childhood. It serves as a museum with an exhibition on the life of our first president
300 m
Herb Paradise and Sonnentor Garden
The magical herb paradise and herb garden of St. Hildegard welcomes you with its intoxicating scent and variety. During an experiential excursion in the production of organic teas you will discover all its secrets.
80 m
St. Kunhuta Church
Založení kostela je datováno do 13. století a je spojeno s řádem templářských rytířů. V průběhu staletí několikrát vyhořel. Dnešní podoba kostela pochází z konce 19. století.
400 m
Lavender Lavandia Farm
The purple meadows in Starovičky, where 90,000 lavender bushes are in bloom, will greet you with their scent from afar. Here you can refresh yourself or shop in the shop.
16 km
https://www.levandulezmoravy.cz/
Bata Canal, Hodonín wharf
The Bata Canal is a 50 km long historical waterway built in the 1930s. Today it is mainly used for recreational purposes.
21 km
https://www.batacanal.cz/pristav/hodonin.html
Almond orchards and observation tower in Hustopeče
The almond orchards nowadays follow the golden era of their cultivation in the 1960s, when 50,000 trees grew here. There is a nature trail and a viewing tower.
21 km
https://www.hustopece.cz/priroda-a-turistika/mandlonove-sady-a-rozhledna
Slavic settlement in Mikulčice
The largest Slavic archaeological site in the Czech Republic from the time of Great Moravia and one of the most important fortified hillforts.
22 km
https://www.masaryk.info/slovanske-hradiste-mikulcice/
Lednice-Valtice area
The most extensive landscape complex in Europe, which includes not only castles and chateaus, but also viewpoints, ponds and parks. Since 1996 it has been part of the UNESCO list.
25 km
http://www.lednickovalticky-areal.cz/
Nové Mlýny Reservoirs
The largest water area in Moravia consists of three reservoirs - Mušovská, Věstonická and Novomlýnská. They serve for recreation and as a nature reserve.
28 km
https://www.jizni-morava.cz/cz/pamatky/o70543-novomlynske-nadrze
Valtice Underground
A 900 m long labyrinth of historic wine cellars takes you back to the 13th century. Most of them are located at a depth of 6-12 m. The tour is accompanied by a wine tasting.
31 km
https://www.valtickepodzemi.cz/
Archeopark Pavlov
A unique underground exhibition presents the life of Homo sapiens on the slopes of the Pálava ridge 30,000 years ago. Modern audiovisual technology enhances the whole experience.
31 km
https://www.archeoparkpavlov.cz/
Aqualand Moravia
The largest water park in the Czech Republic, which also includes two wellness centres, a restaurant, a café, but mainly a number of water attractions.
34 km
https://www.aqualand-moravia.cz/
Skanzen Strážnice
The Museum of Southeast Moravian Villages is a collection of more than 60 interesting objects that will introduce you to the folk architecture and way of life in Slovácko since the 18th century.
37 km
https://www.skanzenstraznice.cz/
Dietrichstein Tomb in Mikulov
Begun in 1623, the building was converted into the tomb of the Dietrichstein family in the mid-19th century. It preserves the remains of members of the family from 1617-1852.
38 km
https://www.mikulov.cz/turista/sluzby/turisticke-cile/prohlidkovy-objekt/dietrichsteinska-hrobka