Laboratory
Templářské sklepy Čejkovice, cooperative winery has earned a Certificate of accreditation to perform analysis of wines for the purpose of rating and grading. This is essential for wine growers looking to have their wines registered with the SZPI.
Opening hours
Mon - Fri: 6:00 a.m. - 2:30 p.m..
Contact
e-mail: laborator@templarske-sklepy.cz
tel.: 518 309 023
Price list 2019
Price list is valid from 11. 04. 2019.
| | |
| --- | --- |
| Laboratory operation | Price incl. VAT |
| General analysis for SZPI | 990 CZK |
| Actual alcohol content | 130 CZK |
| Titratable acids | 120 CZK |
| Volatile acid content | 130 CZK |
| Relative density | 55 CZK |
| Sulfur dioxide free | 60 CZK |
| Sulfur dioxide entire | 70 CZK |
| Sugar (glukosa + fruktosa, sacharosa) | 215 CZK |
| Sugar (reducing substances) | 145 CZK |
| The content of sugar-free extract | 480 CZK |
| Tartaric acid content | 120 CZK |
| Malic acid content | 120 CZK |
| Citric acid content | 120 CZK |
| Lactic acid content | 120 CZK |
| Protein control - stability | 110 CZK |
| pH | 65 CZK |
What it looks like here
Accreditation certificate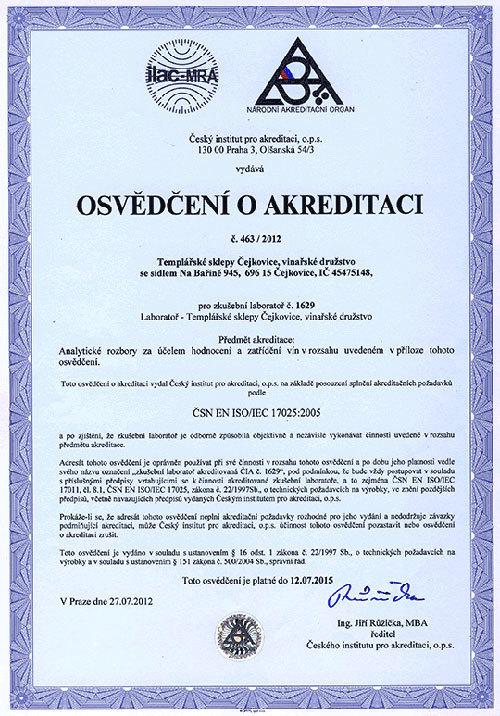 Download